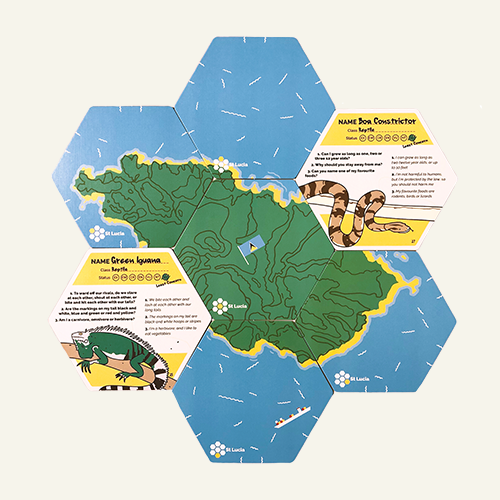 OCEAN EXPLORER: THE BOARD GAME
A CARIBBEAN ADVENTURE
Ocean Explorer can be played as two separate tile laying, trivia games – DEEP BLUE EXPEDITION and ISLAND HOPPER.
Each game builds knowledge of our ocean ecosystem, how it's used and exploited, and the threats that result from human activity.
With this knowledge we can start to share what we've learned, and help to save the oceans and our islands.
2+ players | 8+ years | 15-45 mins
Sorry, currently out of stock
Explore the Caribbean Seas

Take a journey from Grenada to the British Virgin Isles and discover the amazing diversity of wildlife from the seashore to ocean floor.

Help save our oceans!

Every primary school in the Eastern Caribbean region received a copy of the game to help raise the awareness of the challenges of protecting the oceans for the benefit of local communities.

Classroom resources

Download the PDF and Powerpoint files to use in the classroom.
2 games in 1
Use the game components to play two separate tile-laying trivia games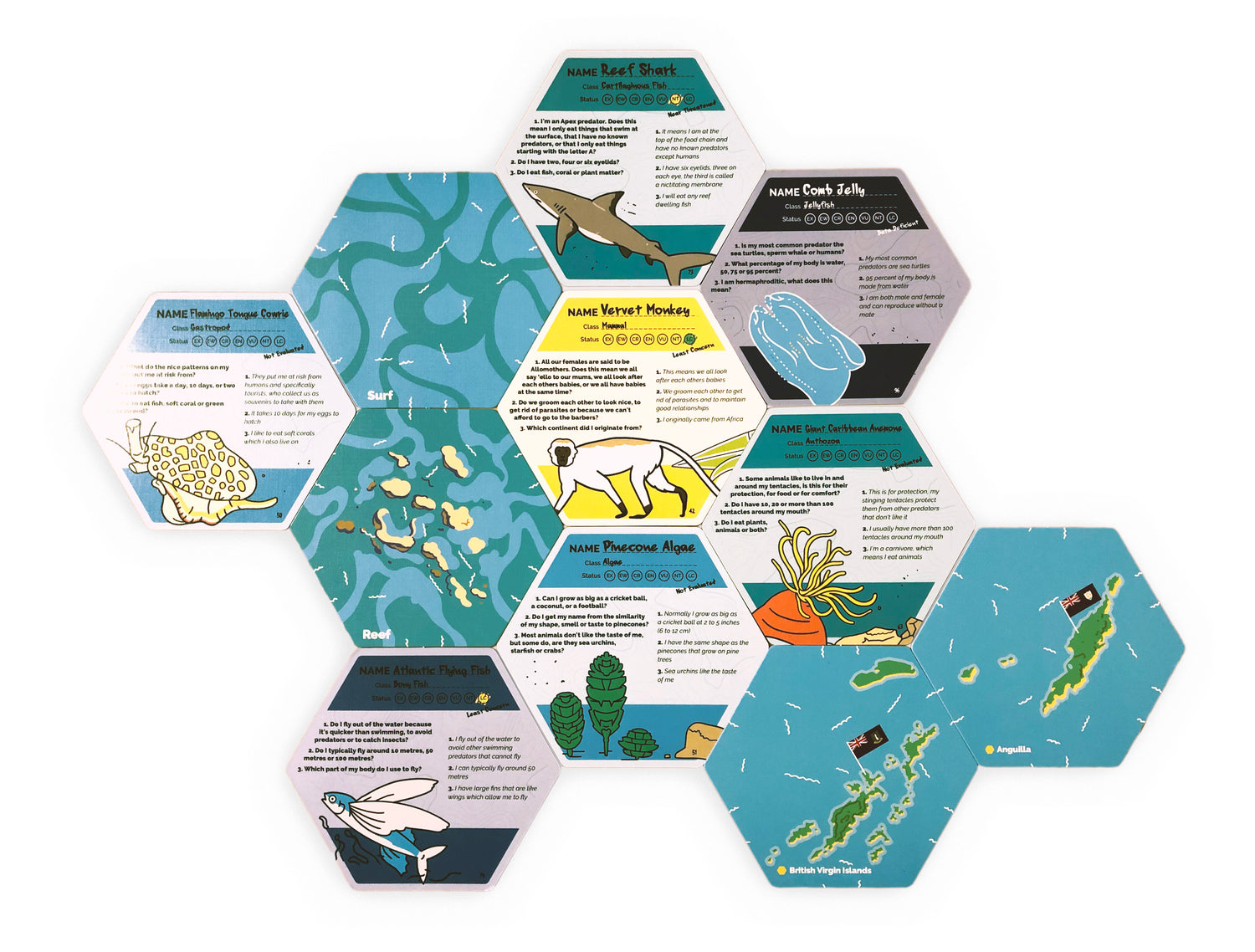 DEEP BLUE EXPEDITION
A quick game for 2-6 explorers or teams
It's a race to be the first explorer to reach the ocean floor! Correctly answer questions about the animals and threats you discover along the way.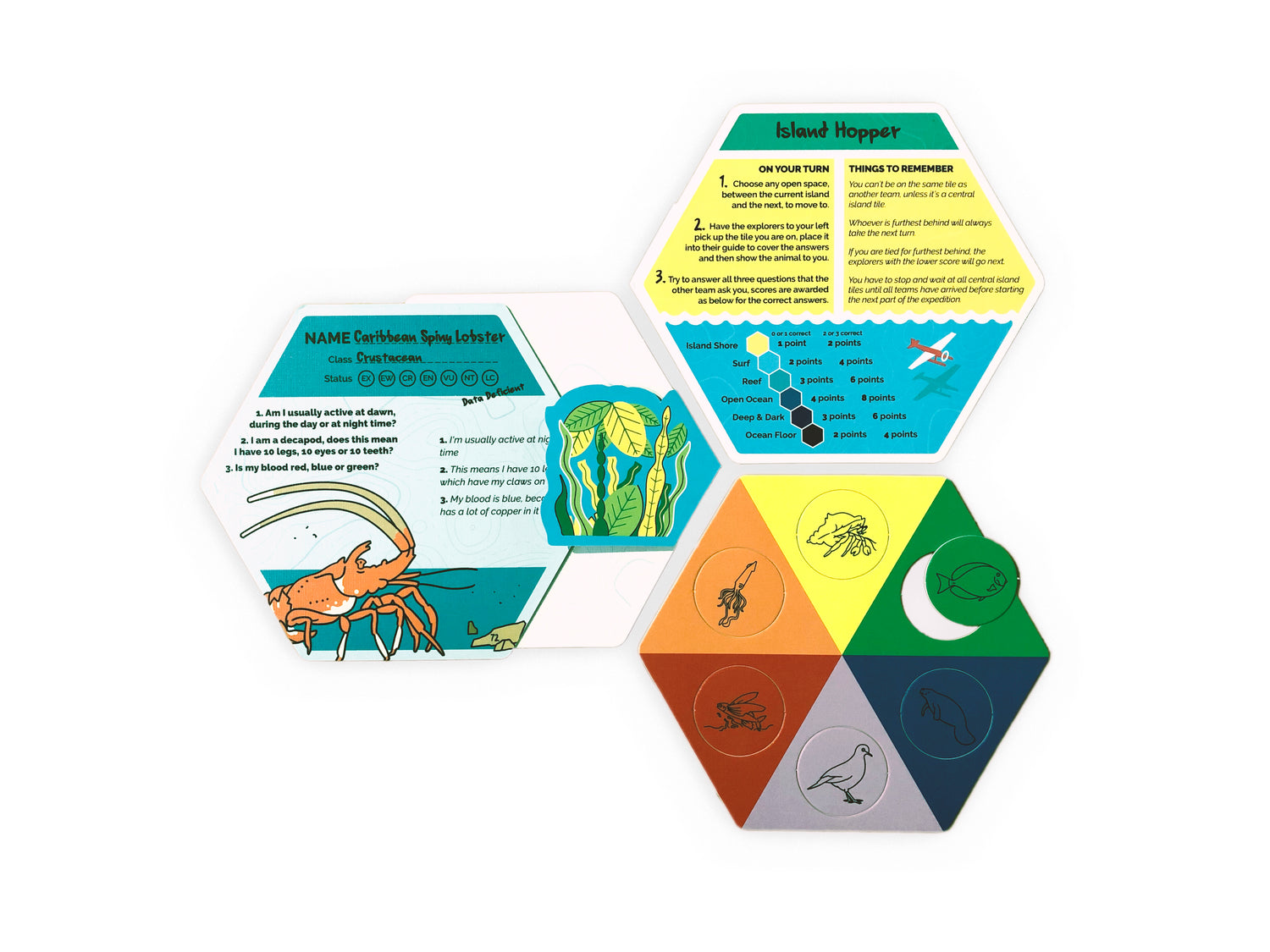 ISLAND HOPPER
A longer game for 2-6 explorers or teams
Be the explorer, or team of explorers, with the highest score after hopping from island to island. You'll need an independent 'Expedition Leader' for this game, such as a teacher or a neutral friend.
Over 70% of the earth's surface is covered by our oceans
These giant, connected masses of water are home to some of the most fantastic living creatures in the world! Even though we've only seen a miniscule amount of this mesmerising ecosystem, sadly our actions as humans have had an effect on all of it. So grab your snorkel and join us as we sink into the mysterious depths to discover, explore and help save our oceans!
Credits
The Ocean Explorer board game was designed and developed as part of a marine awareness campaign with the Organisation of Eastern Caribbean States (OECS).
Produced by The Workshop
Designed by Callum Badger
Illustrated by Adam Allsuch Boardman
Ocean Explorer was created with the help of the staff and students of:
Camille Henry Memorial Primary School, St Lucia
Mon du Don Government Combined School, St Lucia
Vieux-Fort Primary School, St Lucia
Also with thanks to Melissa Harvey Braddick
– and –
Saphira Hunt of Saint Lucia National Trust